3 Ways to use Energy Techniques for Headaches and Pain
February 15, 2016
3 WAYS TO USE ENERGY TECHNIQUES FOR HEADACHES AND PAIN
Help Yourself to Feel Better!
As a Healing Touch Certified Practitioner I use Healing Touch Energy Therapy to help to alleviate headaches and other sources of pain, and you can too.  To start, just know that we have an energy field around our bodies.  It's more complicated than that, but for our purposes, that's all you need to know for now.
A headache may take the form of a pain spike coming from the head or congestion in the field around the head.    That area may fee dense, hot, spikey, throbbing or tingly to the healer, and if you feel around your head, off your body, you may feel something too.  Even if you can't feel it you can use this technique.
TECHNIQUE 1
This clearing technique in Healing Touch is called simply Hands In Motion.
Ask yourself what level your pain is before you start based on 0-10, 0 being no pain and 10 being horrible and severe pain.  Get your initial number and check in as you are using moving your hands through your energy field and watch the number go down.
Just take one or two hands and feel around your head, or go to the area where you feel the pain and work in that area.
Just simply (can use one hand or two), gently and slowly and smoothly move your hands in that area off your body, which is the energy field, like you are moving snow away from you. Moving the density, the congestion or the spike that is in your energy field that is a very real part of the headache or pain.
 You can start 12″ off of your body and as you work, slowly, moving closer and closer to the body, until you are touching your head and body part.  This could take from 5 minutes to longer, maybe 15 or 20 minutes.  Be patient.
I'm happy to show you if you need a visual. If you have a pain spike it could be much further out than 12″ and you will probably want some help with that.
To promote and enhance the comfort and soothing of tense muscles and joints 2 great essential oils blends to mention are:
Panaway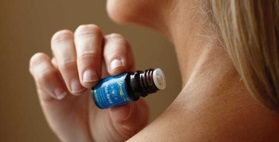 and            M-Grain  
Let me know if I can help you to explore or order these essential oils. kittyholzmer@gmail.com
Stay tuned for a continuation of this article and next 2 energy Techniques to help your headaches and pain.
Comments