February 23, 2016
2 MORE WAYS TO USE ENERGY TECHNIQUES FOR HEADACHES AND PAIN
Help Yourself to Feel Better!!
This is a continuation of an earlier article on using energy techniques for headaches and pain. I broke the article into 1 Technique on the previous writing and now will offer you Techniques 2 and 3 for more ways to feel better. As a Healing Touch Certified Practitioner, I have found these techniques effective for headache relief and can also be helpful to reduce the incidence of headaches in the future.
To review, these Healing Touch techniques can be tried by you to alleviate or reduce your own pain.
Holding your hand in the energy field around the head, you can often feel the energy of a headache. (Healing Touch practitioners often report feeling the pain spike of a migraine many feet away from the sufferer's physical body.)
It may feel hot, spiky, dense, painful (to the healer's hand), throbbing, tingly, or "electric."  The energy is often concentrated, excessive, and "stuck."  Getting it to balance and flow can be very helpful.
TECHNIQUE 1 in the last article was called Hands in Motion.
You can revisit that article:
http://creative-wellness.net/3-ways-to-use-energy-techniques-for-headaches-and-pain/
TECHNIQUE 2.  PAIN DRAIN
Pain Drain is just like it sounds; drawing the pain from the area and letting it drain into the earth. This an excellent energy healing for headaches technique, adapted from a Healing Touch method.
Place your open left hand above the most intense area of pain. It can be a few inches away from the head or pain site.
Hold your right hand away from your body, arm and hand pointing down towards the earth. Imagine that you are drawing pain from the painful area, across the front of your body and down your right arm, releasing it out of your right hand and into the earth.
This can take a few minutes.. maybe 5 or more.
When you feel, or even imagine (It's ok to imagine that it's happening if you don't feel it) the flow of energy slowing down, or when you feel relief, switch hands, place your right hand in the field above the headache, and your left hand reaching toward the sky.
Visualize pure white light channeling into your left hand, traveling to your right arm and hand, and filling the headache or painful body part area.
TECHNIQUE 3.  HANDS STILL
Simply hold your hand or hands over the painful area and also keep the intention in your mind for the pain to reduce or completely leave. Hold for several minutes and be aware as the pain changes.
Of course if you are having pain on a regular basis you want to explore what might be causing it and not just treating the symptoms.  It's good to know though, that treating a problem in the energy field can be directly helping your issue by balancing and clearing the energy field.  There's a lot more to it than that, but performing these energy techniques the way they are described are some natural First Aid and worth a try.
I would love to help you with your pain at Creative Wellness if you feel that you need some more direct intervention.
Some great essential Oils to add into your self-care regimen:
EndoFlex Essential Oil Blend can help to promote hormonal balance in order to help to                                               avoid hormonal related headaches.
Copaiba helps to support the body's natural response to injury or irritation.
To explore Young Living Essential Oils please contact me directly
Kittyholzmer@gmail.com  609-408-1740   or go exploring in my website at www.kittysessentialoilinfo.com
Also a reminder not to forget the
February Love Yourself Special
Schedule 3 Healing Touch Sessions from now (extended from March 11th) until March 31st and receive $10.00 off per session.
3 sessions at $285 and with tax comes to $304.95.
You save $30.00.
Schedule now at 609-463-0999 or on-line at: http://creative-wellness.net/scheduling-appointments/
The above article was inspired by an article published by Nancy Hausauer http://www.the-energy-healing-site.com/energy-healing-for-headaches.html#sthash.yQo0MsMa.dpuf Her site has some great info on auras, chakras and energy anatomy if you are interested in learning more. 
Happy Pain Relief,
February 15, 2016
3 WAYS TO USE ENERGY TECHNIQUES FOR HEADACHES AND PAIN
Help Yourself to Feel Better!
As a Healing Touch Certified Practitioner I use Healing Touch Energy Therapy to help to alleviate headaches and other sources of pain, and you can too.  To start, just know that we have an energy field around our bodies.  It's more complicated than that, but for our purposes, that's all you need to know for now.
A headache may take the form of a pain spike coming from the head or congestion in the field around the head.    That area may fee dense, hot, spikey, throbbing or tingly to the healer, and if you feel around your head, off your body, you may feel something too.  Even if you can't feel it you can use this technique.
TECHNIQUE 1
This clearing technique in Healing Touch is called simply Hands In Motion.
Ask yourself what level your pain is before you start based on 0-10, 0 being no pain and 10 being horrible and severe pain.  Get your initial number and check in as you are using moving your hands through your energy field and watch the number go down.
Just take one or two hands and feel around your head, or go to the area where you feel the pain and work in that area.
Just simply (can use one hand or two), gently and slowly and smoothly move your hands in that area off your body, which is the energy field, like you are moving snow away from you. Moving the density, the congestion or the spike that is in your energy field that is a very real part of the headache or pain.
 You can start 12″ off of your body and as you work, slowly, moving closer and closer to the body, until you are touching your head and body part.  This could take from 5 minutes to longer, maybe 15 or 20 minutes.  Be patient.
I'm happy to show you if you need a visual. If you have a pain spike it could be much further out than 12″ and you will probably want some help with that.
To promote and enhance the comfort and soothing of tense muscles and joints 2 great essential oils blends to mention are:
Panaway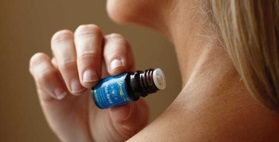 and            M-Grain  
Let me know if I can help you to explore or order these essential oils. kittyholzmer@gmail.com
Stay tuned for a continuation of this article and next 2 energy Techniques to help your headaches and pain.